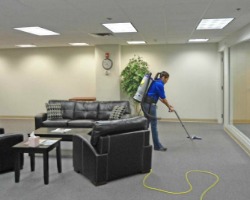 If you are looking for a reliable, high quality, competitively priced office cleaning service, then contact us! We will customize your office cleaning to meet your needs and work around your business schedule – daily, nightly or weekly.
Our routine office cleanings include:
dusting of common surfaces
vacuuming of carpet areas
mopping of tiled floors or linoleum surfaces
cleaning common bathrooms and kitchen areas
Clean glass entry way doors
trash cans and wastepaper baskets are emptied
Special cleaning services can also be arranged for your office. Frequently, clients ask that we do a special cleaning before and after a holiday party or quarterly polish floors.